There's nothing quite like experiencing a property that defies every expectation of what a Southern California seaside mansion should be. Sure to delight design connoisseurs who appreciate unapologetic luxury, whimsical historical references, and relentless pursuit of an incomparable architectural vision, Foxhill Estate favors rococo ornamentation over modern geometry, grandeur over minimalism. It's a home that's as much a visual confection as it is a monument to the notable family—and the mysteries—that dwelled within its walls.
Prepare to have your breath taken away as we explore this remarkable estate which recently came to market in La Jolla.
Conjured and cherished by the Copley publishing family
Built in 1959 by newspaper publisher James S. Copley and designed by architect Roy Drew, Foxhill is one of the largest estates in La Jolla, sitting on 32 acres and offering panoramic views of the Pacific Ocean. Recently released onto the market, and listed by Drew Nelson DRE #01376023 and Timothy Nelson DRE #01801493 of Willis Allen Real Estate, buyers now have the opportunity to purchase either the main 6.24 acre estate (with its nearly 23,000 square foot, 10-bedroom, and 14-bath home); the adjoining 22.4 acre golf course; and/or the 1.77 acre partial with plans for a 10,000 square foot dwelling.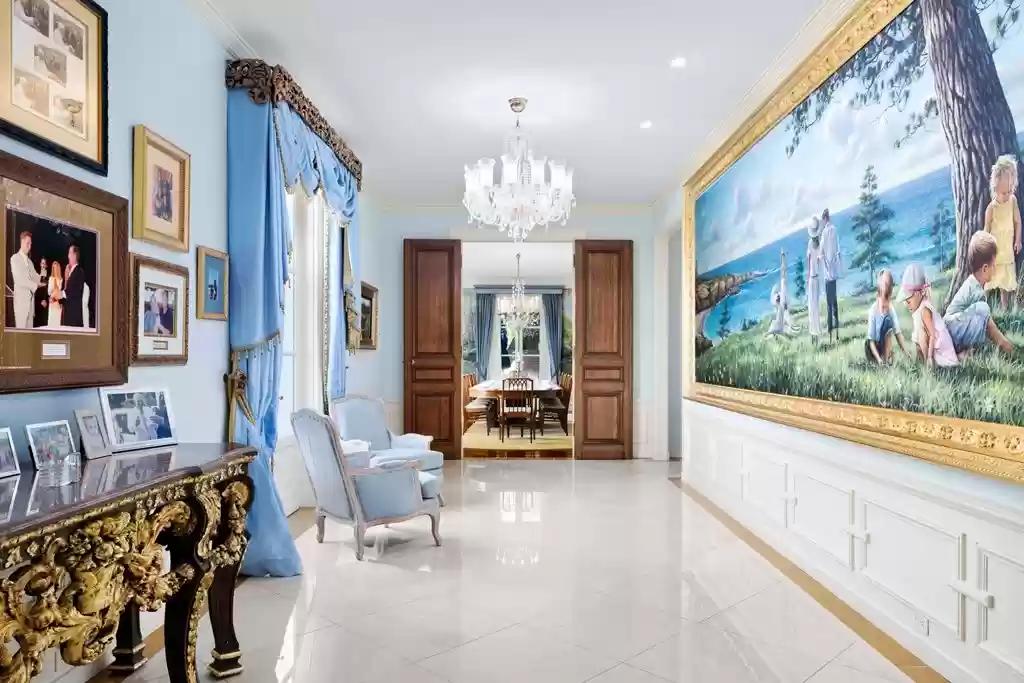 A 1978 San Diego Reader article offers hints into what it was like growing up in this crown of La Jolla's Country Club community. For James' first adopted son, Michael Copley, coming of age at Foxhill meant the splendor of midcentury high living: "in addition to the chauffeur who also acted as a handyman, [Michael's] family had a cook, a maid, and several gardeners. Intermittently, he and his sister had a governess." Since all the Copley children were adopted, "to be a Copley had to do with upbringing—proper behavior, emphasis on responsibility, excellent manners, and proving oneself." Journalist Eleanor Widmer writes, "Should the ghost of James Copley, like Hamlet's father, suddenly appear in the blue mist of an early summer evening, he would be sure to find his son with clean nails and freshly laundered attire."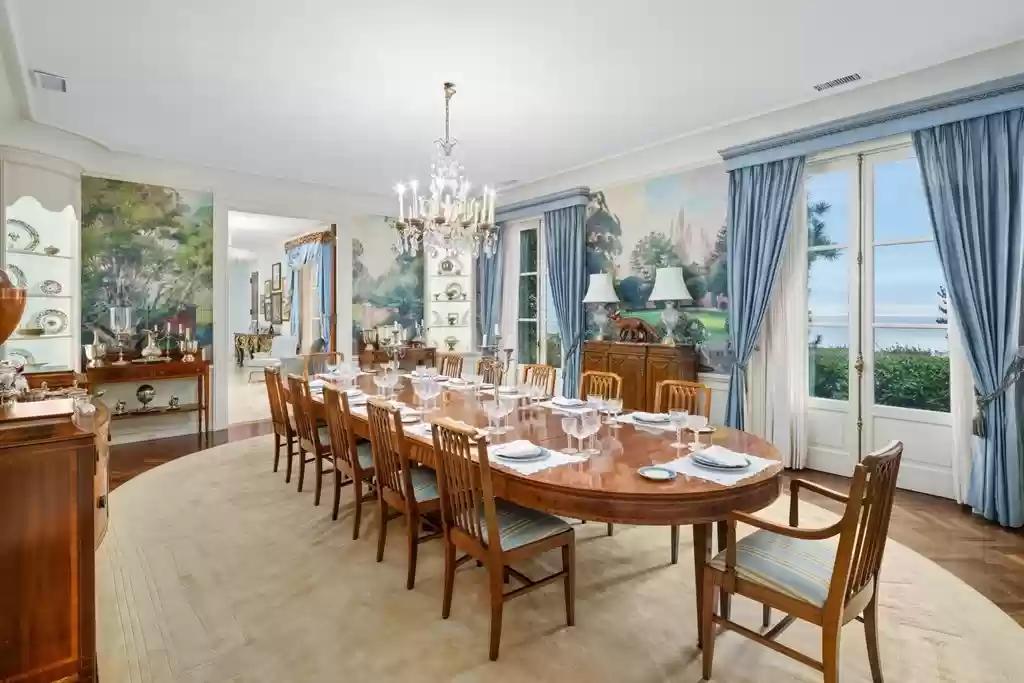 The name of the estate comes from how James' first wife described him—a fox, "adroit and skillful at survival." Some of the original fox memorabilia still remains in the house from those early days when the informal dining room—the Copley's called it the Morning Room—held all of James Copley's fox mugs, dishes, statuary, and paintings.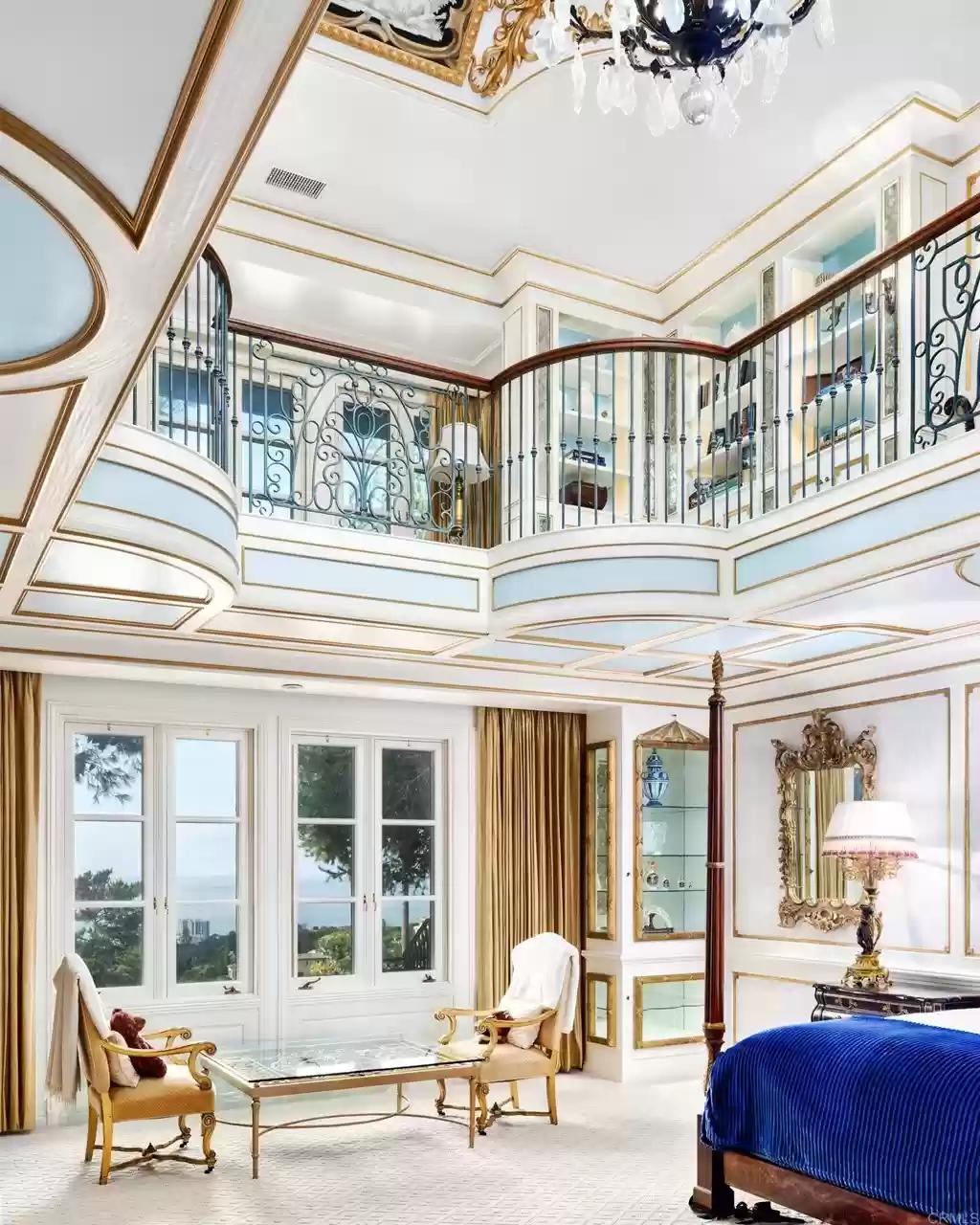 What else do we know of the home's creator James S. Copley? He was a mythic figure and also an enigma. Born in New York in 1916, his parents died during the influenza epidemic of 1918. After being orphaned, he was adopted by publisher and utility tycoon Colonel Ira Copley (himself a survivor of scarlet fever). Like Howard Hughes and many other notable 20th century figures who survived the pandemic, James became meticulous about cleanliness—instilling the importance of hygiene and handwashing in the children he would adopt and raise in the "children's bedroom wing" of Foxhill. Complete with three ensuite rooms that lead to a central area that opens to the pool—where James' second wife was said to swim 100 laps a day—the bright, sunlit kids' rooms all feature crown molding, bay windows, and folding doors that open to the garden.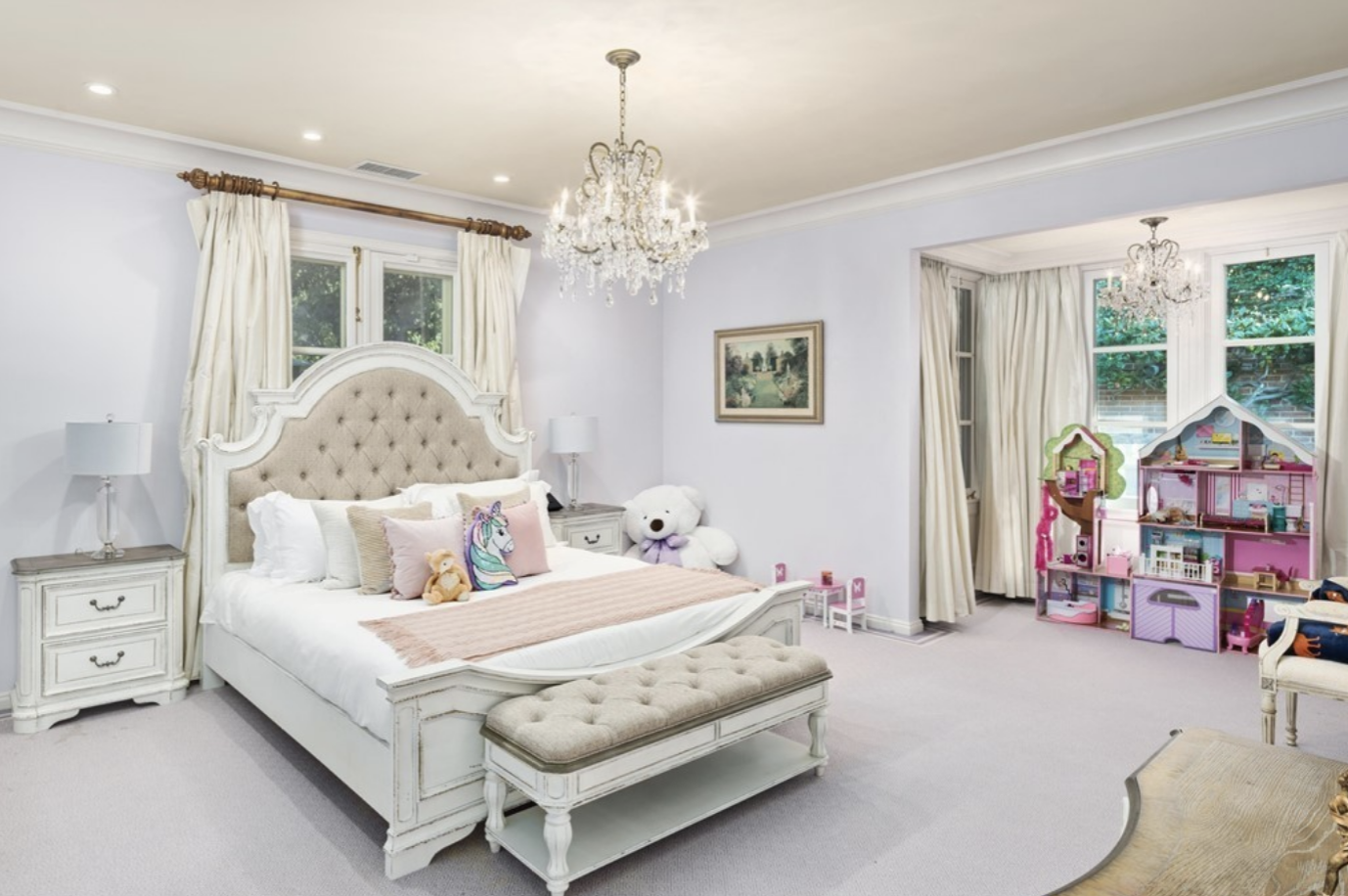 No one knows why James chose to adopt his children (Michael and Janice, identical in age but not related to each other) instead of having his own with his first wife, and he rarely spoke to his kin about his personal life and feelings, instead he focused on instilling ritual and structure in their upbringing: meeting in the formal library before dinner, checking the children's fingernails for dirt, traversing the long hallway to the informal dining room for the evening meal.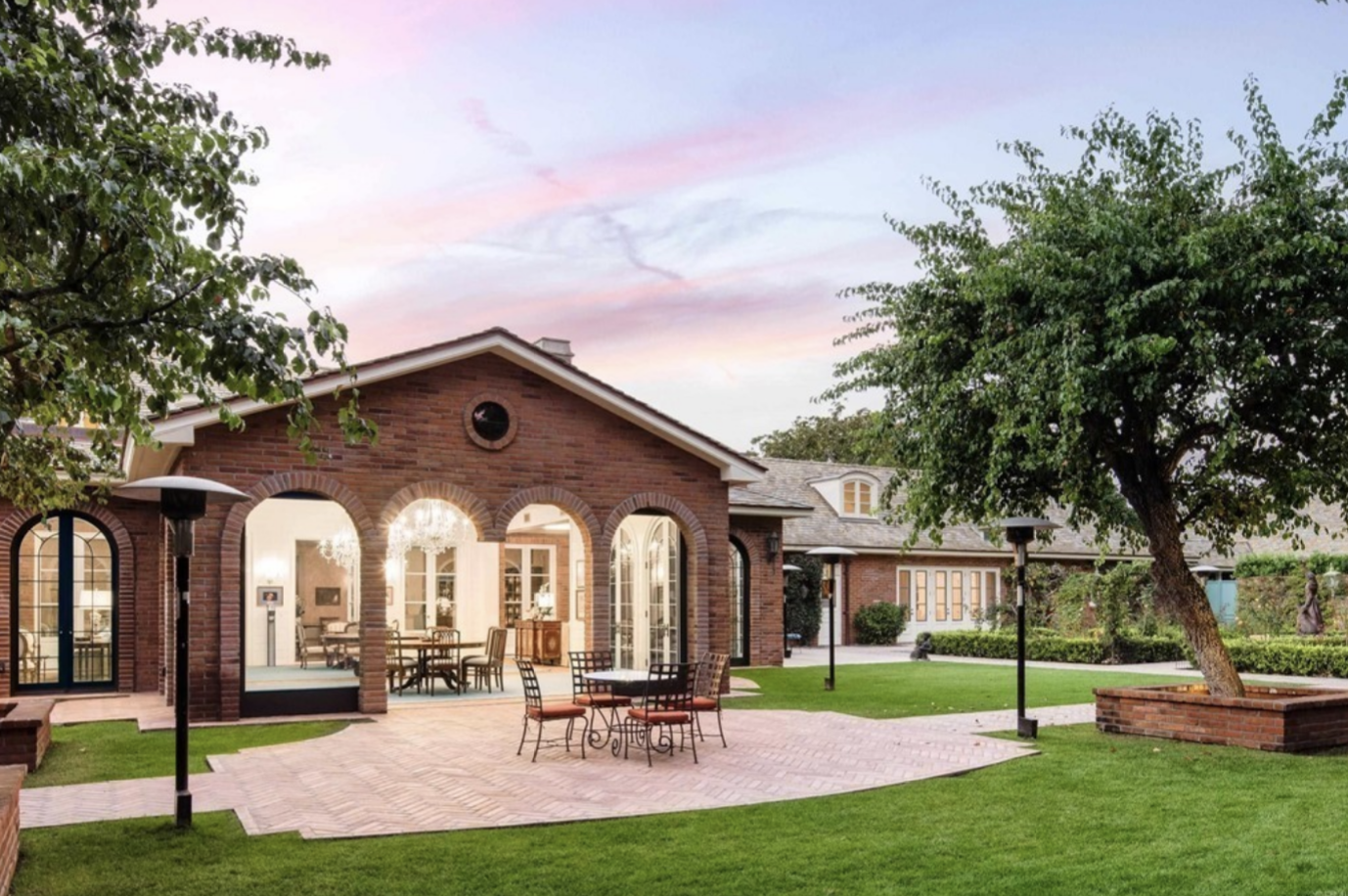 Clues to James Copley's mysteries might then be found in the beauty of the estate itself. The home is undeniably flamboyant in contrast to Mr. Copleys' austerity, the many decadent rooms suggesting the reportedly lonely man sought connection through hosting parties and elegant gatherings. In the 1960's President Nixon even stayed at Foxhill.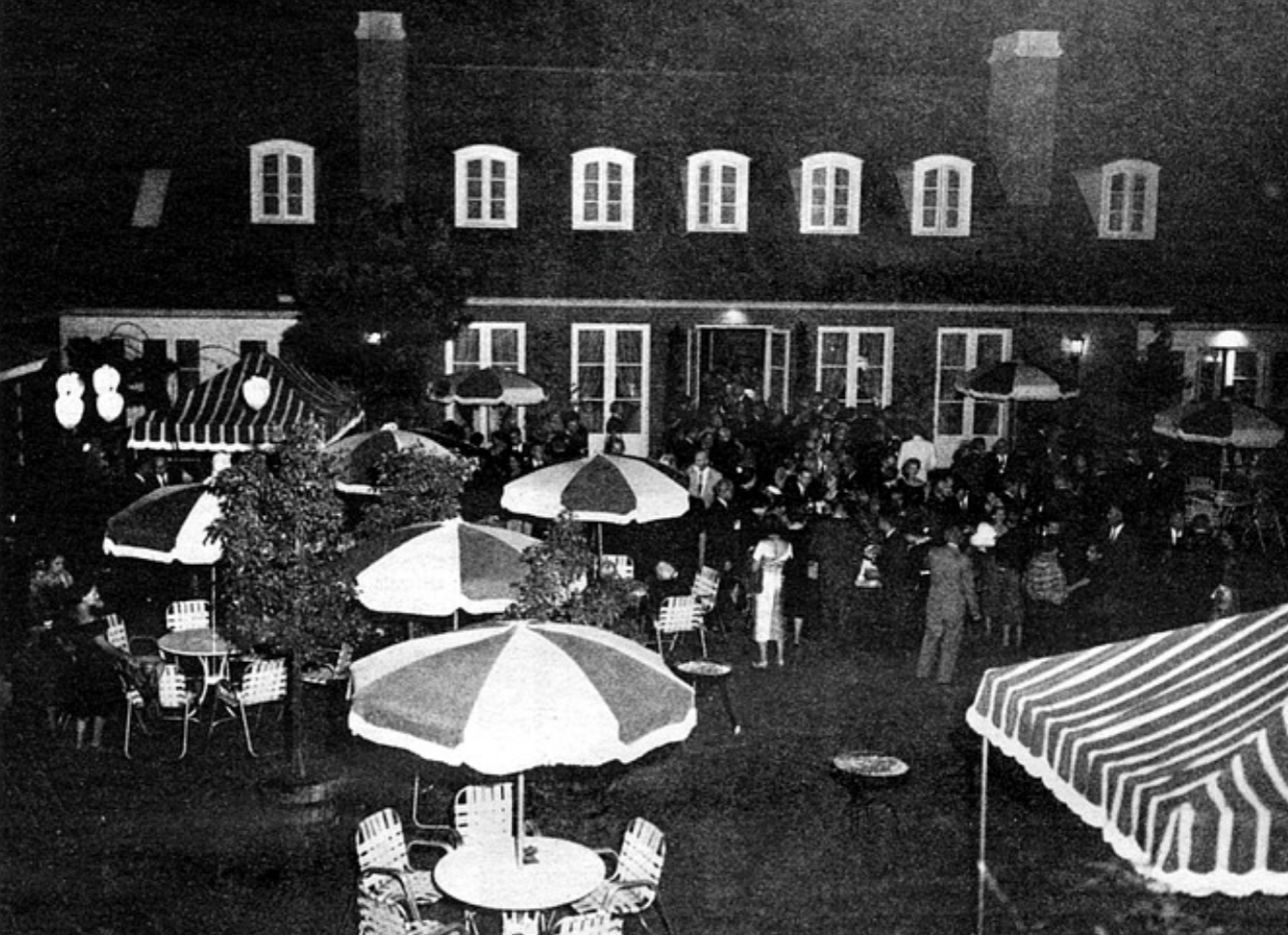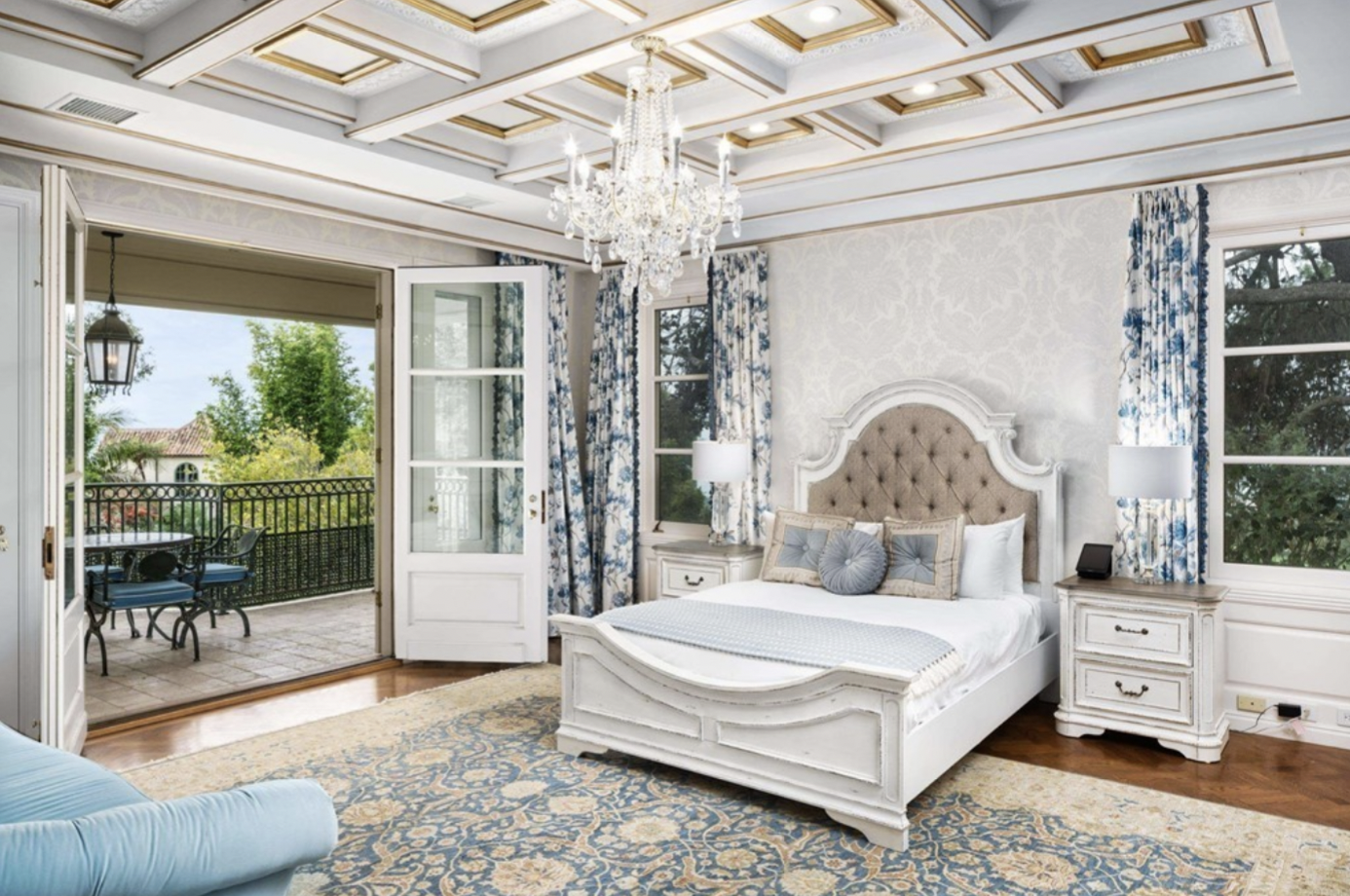 French country elegance with eclectic touches
In the golden light of a late summer day, the colonial-style brick front of the main house at the end of a winding, tree-shaded drive elicits a late 18th-century New England charm, but the view overlooking the Country Club neighborhood is all glorious Pacific Ocean, palm trees, and—on a clear day—the shimmering silhouette of San Clemente island on the horizon.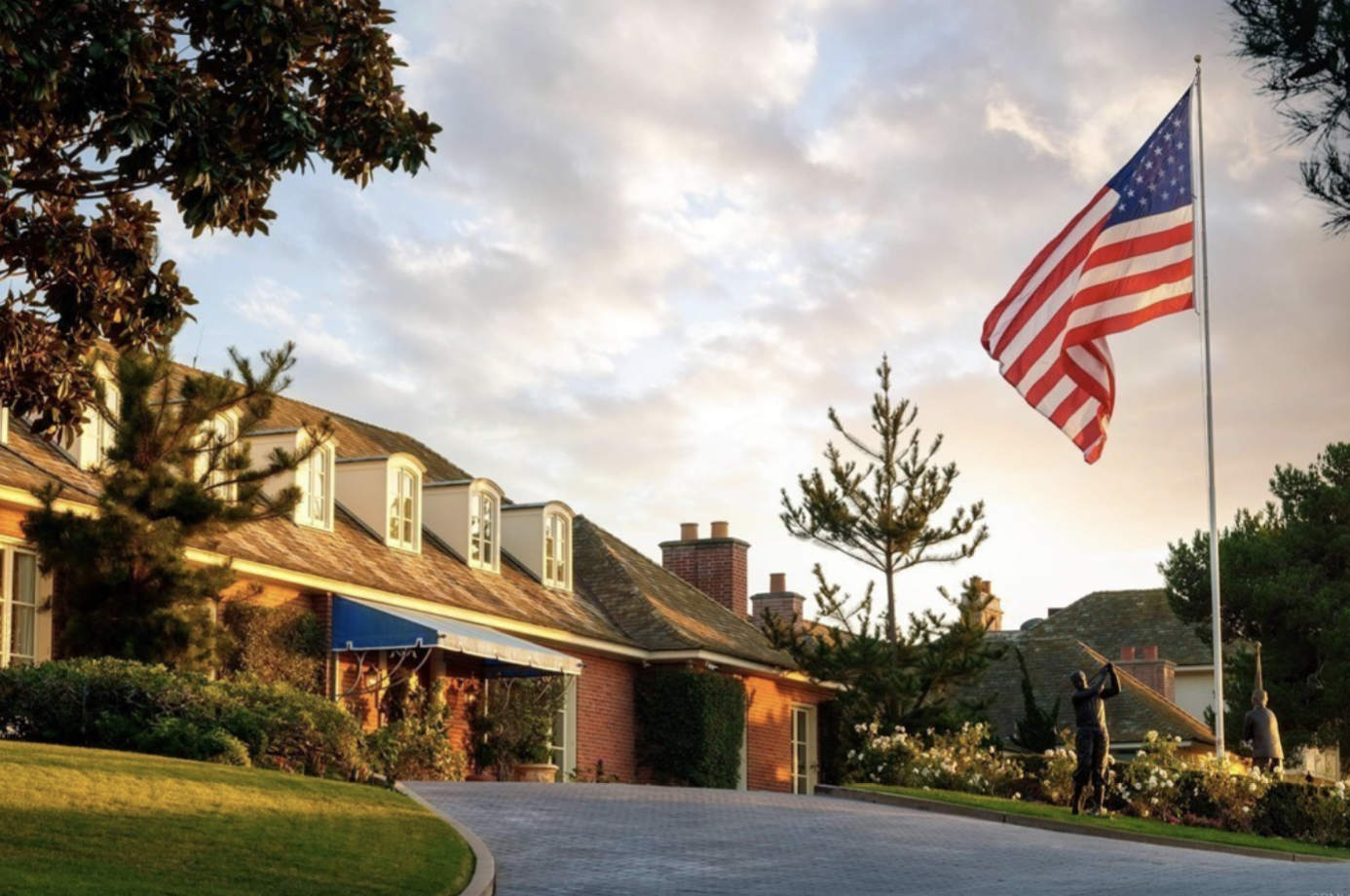 No stale, contemporary asceticism in these interiors. At Foxhill, the main foyer feels nearly presidential—appropriate since James Copley met with and hosted many heads of state within these grounds.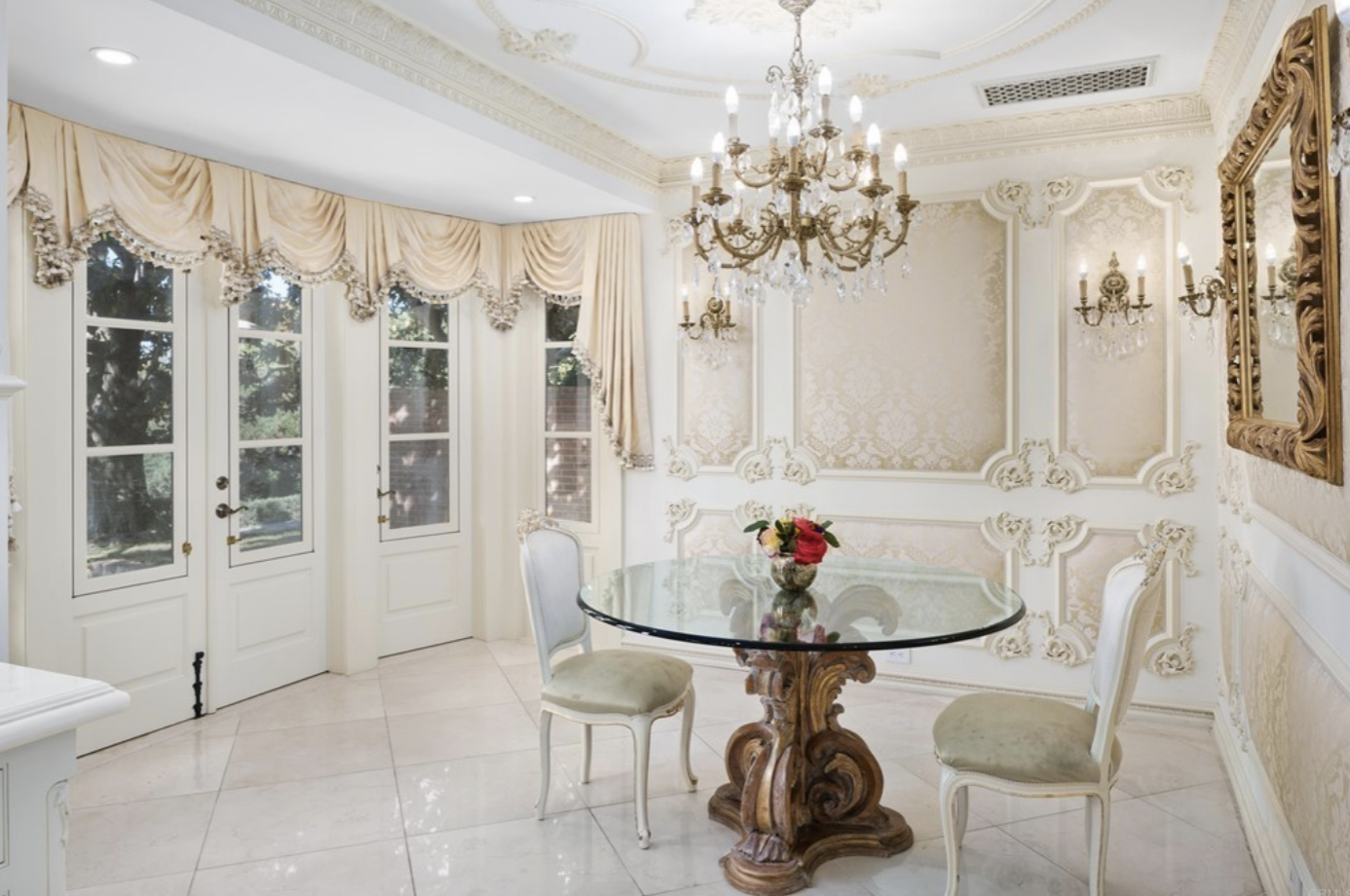 An undeniably rococo aesthetic pervades the halls, bedrooms, and dining areas with embellishments ranging from French-style sconces and moldings, to coffered ceilings, and the impressive landscape murals above the wainscotting. Occasional eccentric trimmings—a dome mural that features Elizabeth Taylor, Marie Antoinette, and Queen Elizabeth I—layer in elements of mid century Hollywood Regency.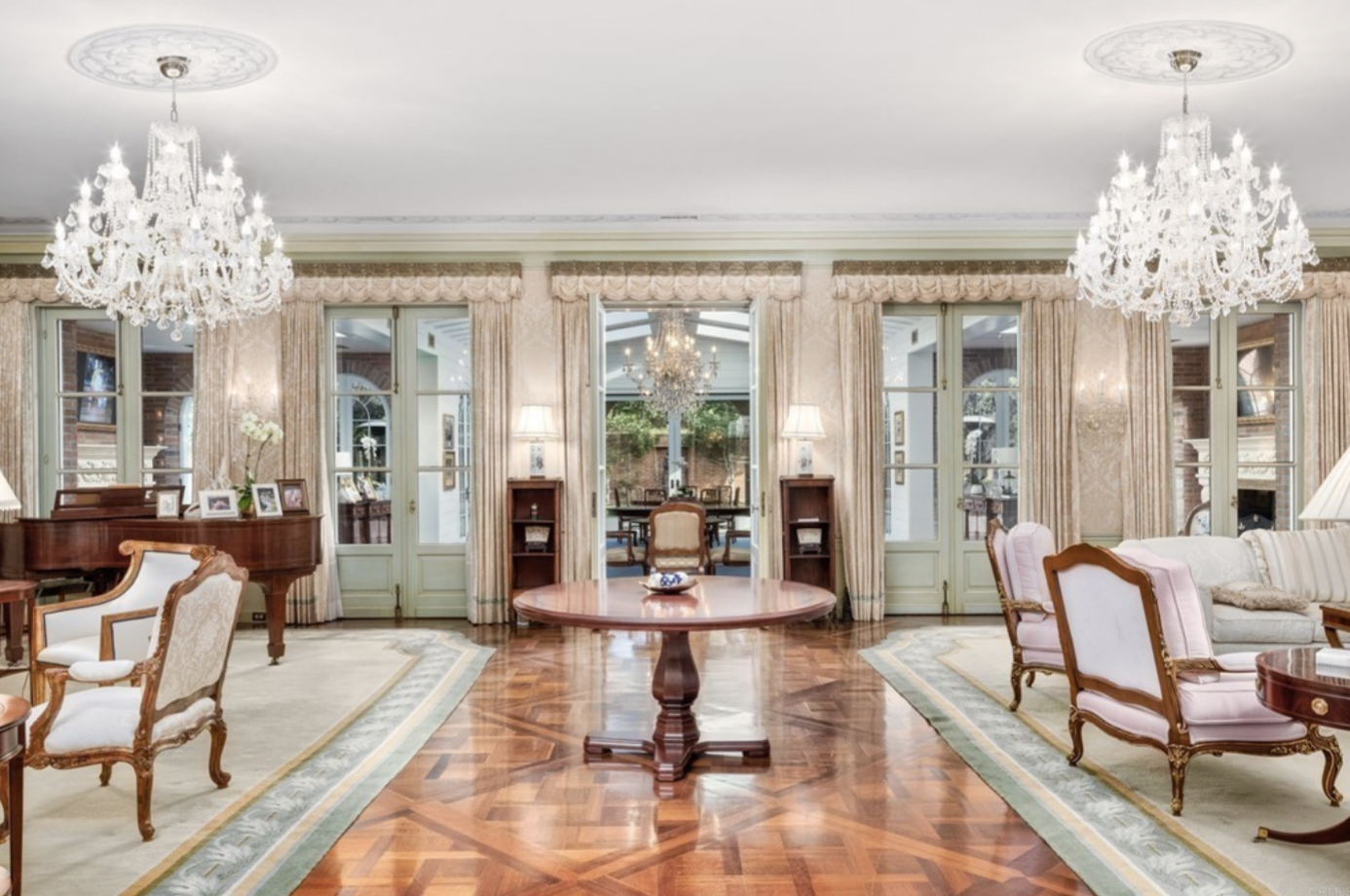 Every room at Foxhill has a chandelier (or two, or seven), and the lush, ornamental décor is perhaps most awe-inspiring in the kitchen. Recently re-envisioned to accommodate entertaining over utility, this space is a French country fairytale of cream and white, dripping with adornments and sure to inspire many evenings of baking macarons or nibbling profiterole while taking in the scents of the adjacent rose garden.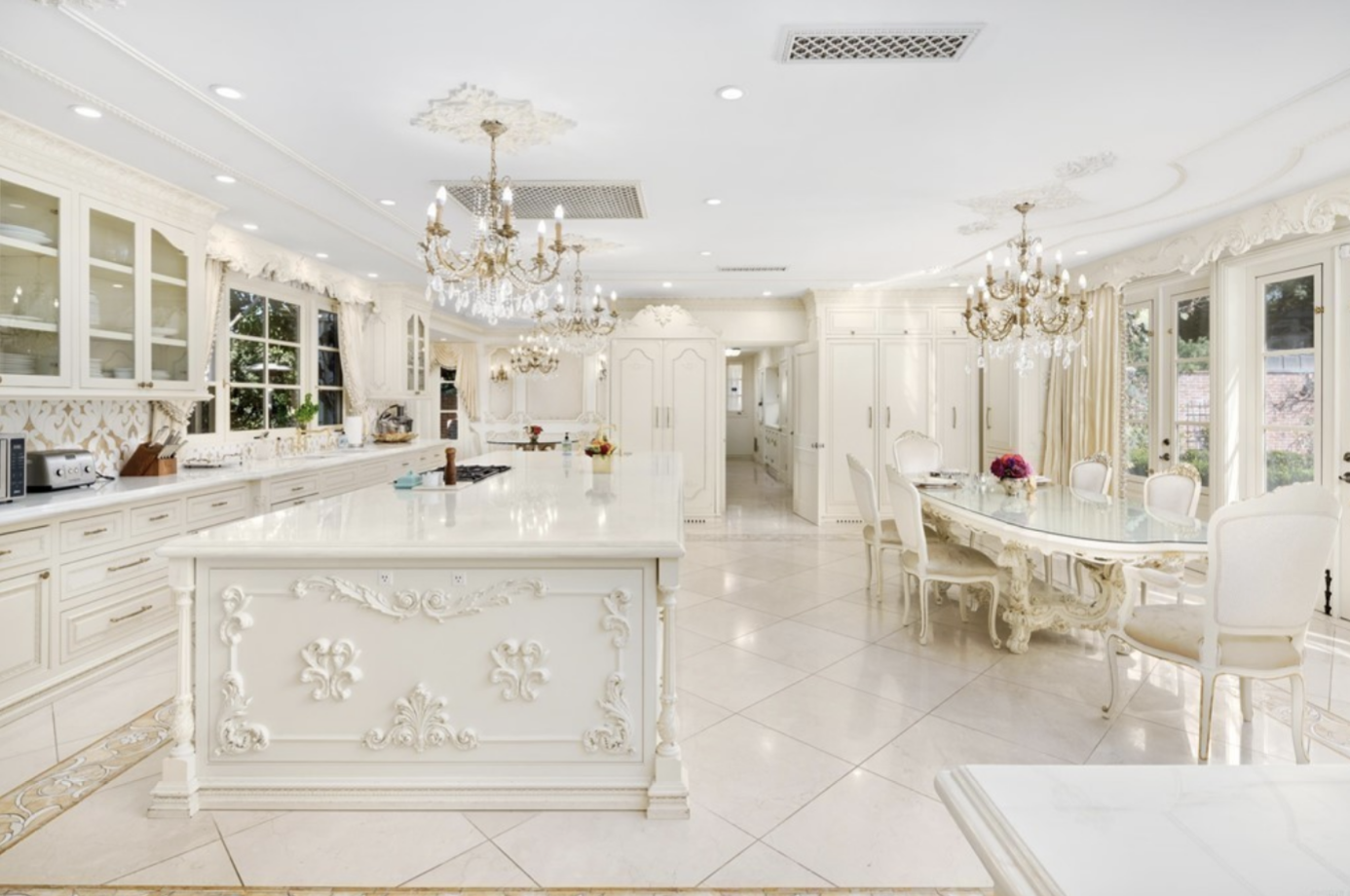 Likely to be the most popular feature among fur-parents is the absolutely transcendent dog room which features a mosaic tile floor, wading pool, bucolic mural, and skylight to brighten the space. James Copley's third adopted child, David, the son of his second wife who inherited the estate, was a philanthropist and funded the San Diego Animal Shelter among other charitable causes. A statue of the animal-loving St. Francis of Assisi stands in the gardens with a dog at his side and a bird in his hand.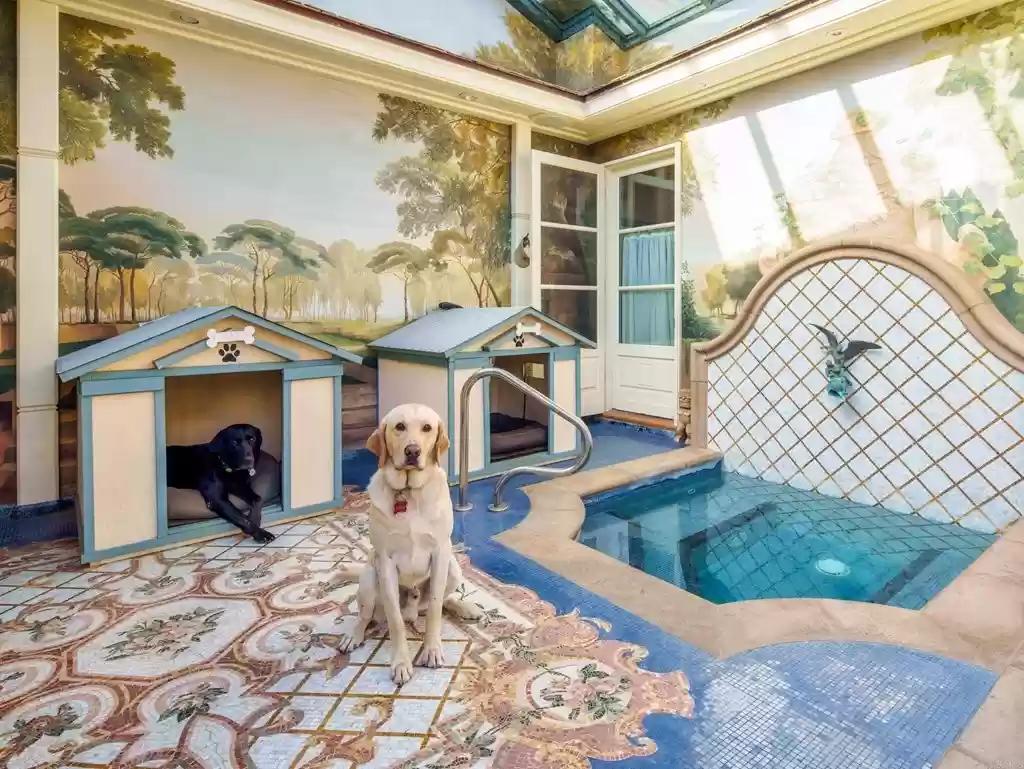 In the early days of the estate, James Copley had a springer spaniel and a poodle that remained as fixtures in the library and were trained to stay outside the dining room during dinner.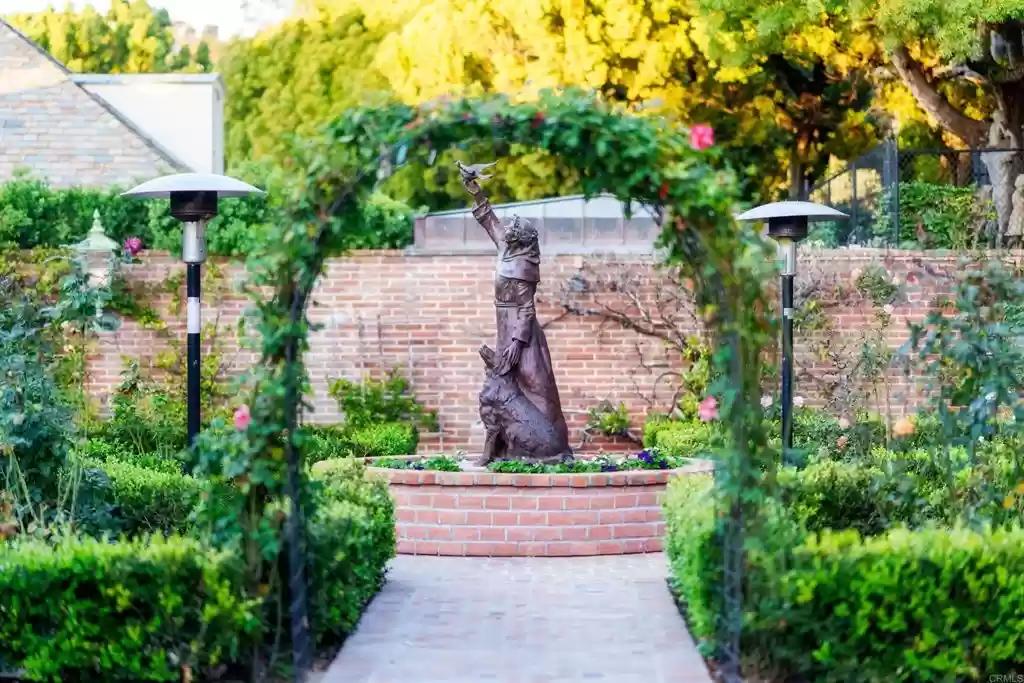 Ideal for an active lifestyle
It probably goes without saying, but luxury amenities abound in this home. Active individuals will value the tennis court, padel enclosure, racquetball court, gym, extensive walking trails and multi-hole golf course. The pool enchants with a bronze mermaid sculpture greeting guests as they dip into the waters for a summertime swim.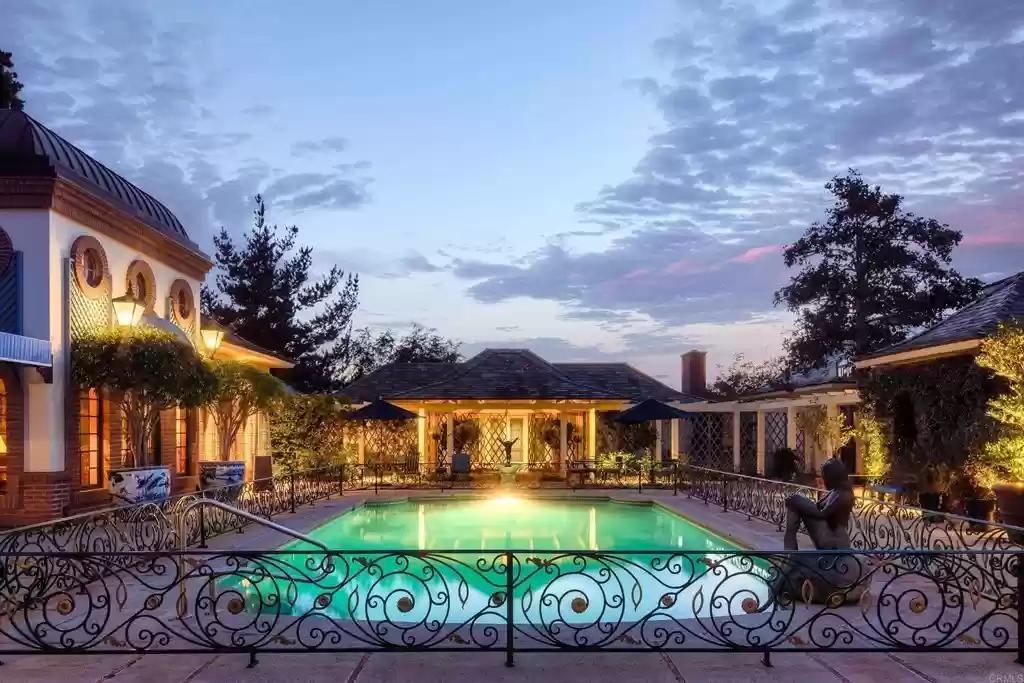 These athletic additions are, indeed, rooted in the Copley family history. During the weekends, James would teach his son, Michael, to play baseball on the estate grounds, and for Michael's birthday he would invite friends for a game of football. James even taught Michael how to box.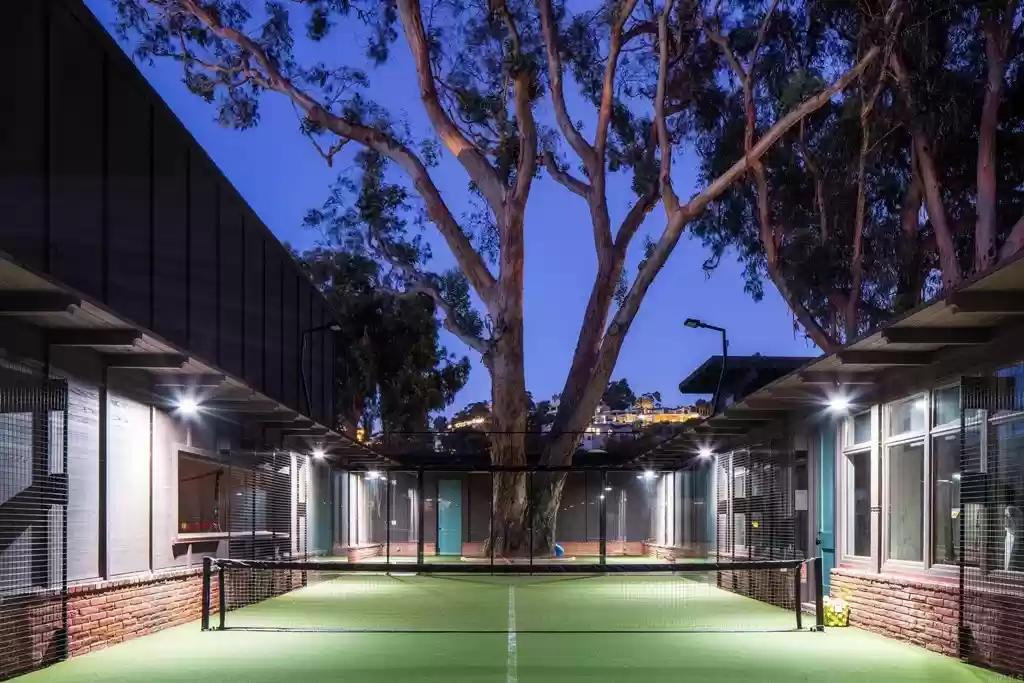 Auto enthusiast? There's covered parking for 12 cars—a 4-car attached garage and an 8-car detached garage. Vehicles played a prominent role in the Copley mythos as well. Michael's favorite memories were the summertime drives the family took to Borrego Springs which involved "a cortege of cars." James himself drove a Willy's four-wheel-drive, with Michael sitting on his lap operating the clutch. As Michael grew up, he acquired his own scrupulously maintained 1965 red Volkswagen convertible. James' second wife, Helen, drove a "Copley blue" Cadillac. Sadly, cars also factored in family tragedy. In 2012, heir and philanthropist, David Copley, died from a heart attack while driving his Aston Martin less than a mile from the home.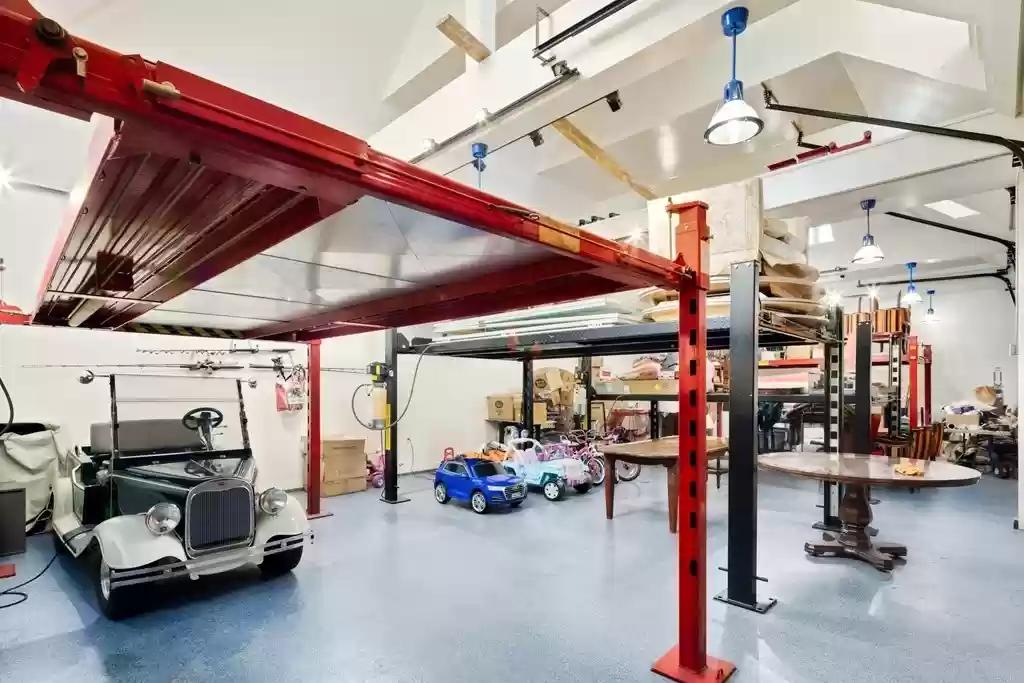 Before his death, David was known as a collector of classic cars which included an Aston Martin, a Porsche, a Cadillac, and a Maybach.
A stroll in the expansive, gorgeously manicured grounds is a soothing pastime for anyone inclined towards the outdoors. Environmentally-minded folks can savor the sustainable amenities—the open reserve space, expansive solar panels and large, vegetable growing greenhouse.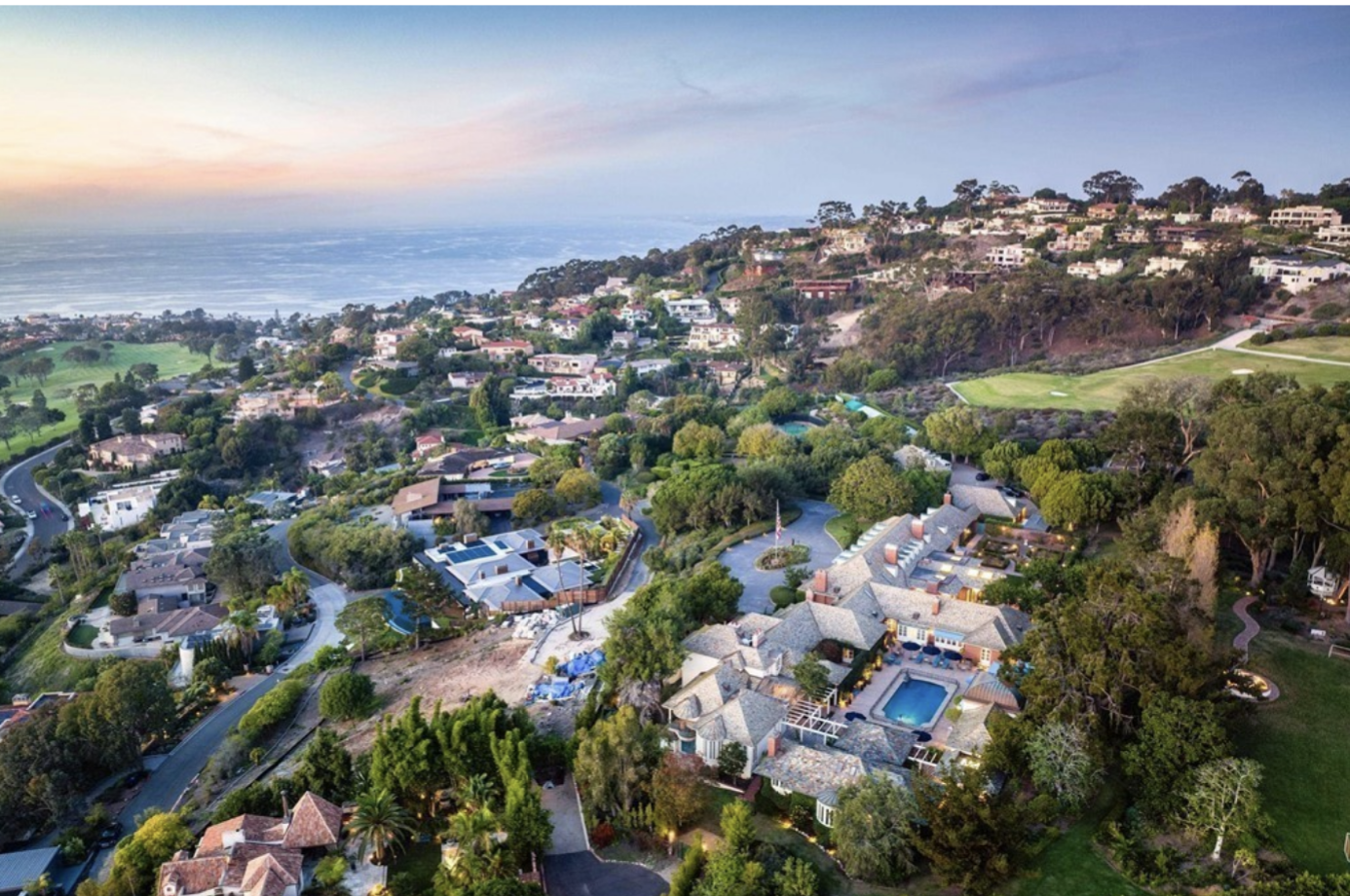 Privacy and seclusion are a major draw of this hilltop paradise. Likewise, the property's multiple guesthouses offer their occupants the same level of solitude. As with the children's wing, each guest quarters opens to the pool and features design that's consistent in quality and style with the rest of the estate.
What will be the future of this legendary residence?
The San Diego Historical Resources Board failed to secure the six needed votes to designate Foxhill as historic. This means the property can be redeveloped without adhering to its original style. So, whoever buys the estate can, essentially, do as they like with it. But with so much history, many hope the estate's next owner will preserve architect Roy Drew's original vision.
Of course, there are plenty of other options for the luxury buyer who isn't keen on Foxhill's opulence. The newly-constructed Ora House recently came on the market and offers all the contemporary lines an ultramodern design aficionado could want.
Regardless of who swoops in to claim either Foxhill Estate or Ora House, these sales are likely to break records.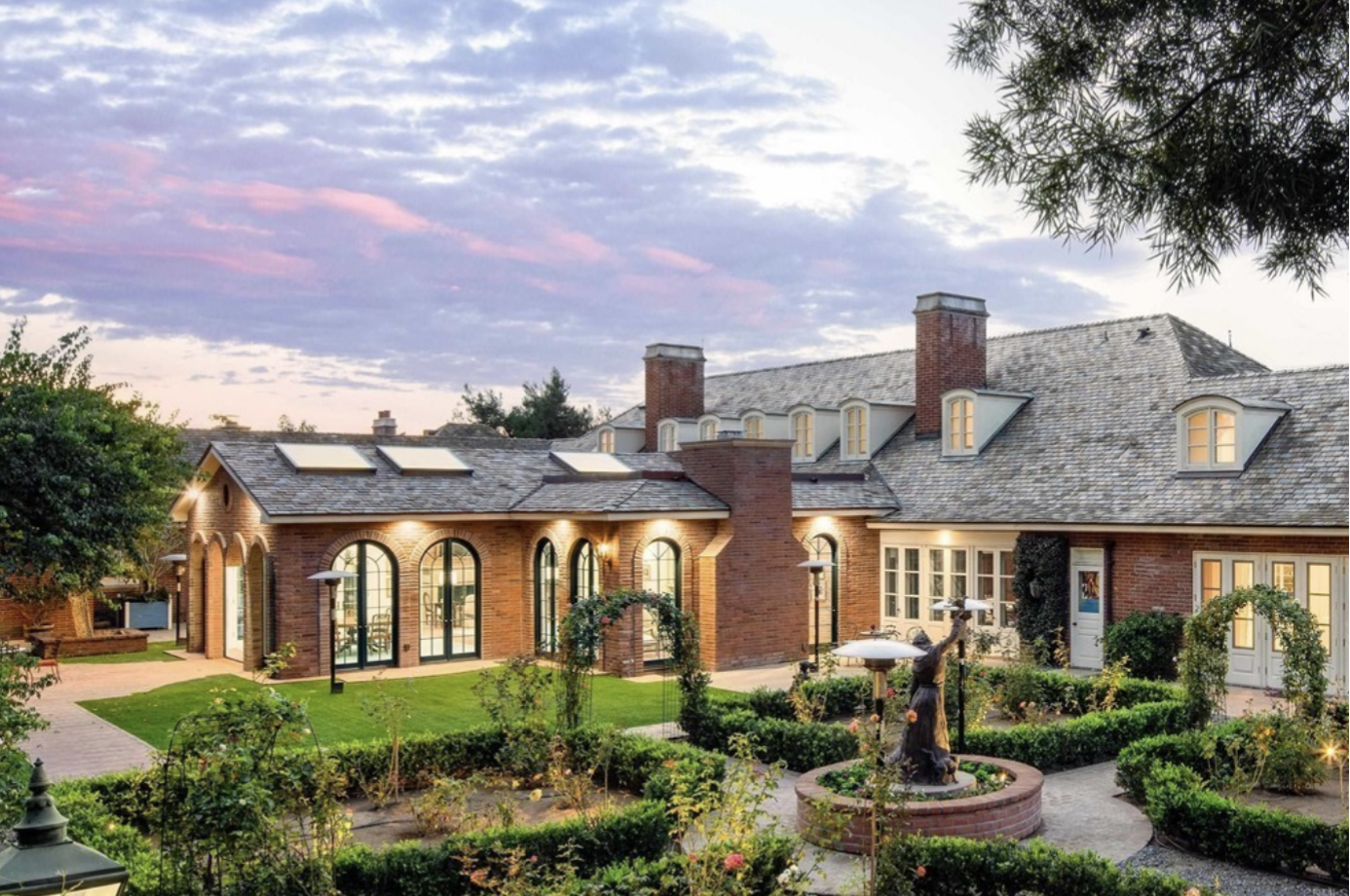 Ready to find your own dream home?
The Cassity Team is here to help buyers start their own legacy here in San Diego. Reach out today and tell us what you're looking for.
On the hunt for your dream home in San Diego? Give us a call today at 619-268-3649 to find out how we can help.